Online:
An easy way to donate to Gamers for Cures and The Turner Syndrome Society is to do so at our FirstGiving site. Donating is fast, easy and secure. Gamers for Cures has used FirstGiving as its online donation site all the way back to the first 24 Hour Board Game Marathon, way back on November 12, 2011!
In person/at the store:
If you happen to be in Cary in the Cary Towne Center area, why not stop by The Gamer's Armory? You can make a donation by buying some raffle tickets, which also give you a chance to win some great prizes! Tickets are just $5 each or 5/20$. Just ask at the counter, they friendly staff can help you out. There are also some special Game Day donation packages available. You can see some more details about those donation packages here. Remember, all proceeds go to Turner Syndrome Society.
On event day!
Saturday November 11th 2017 is the day of the event. On event day, you can buy Big Ticket Raffle tickets, Game Day Raffle Tickets, a donation package, or maybe even something from the bake sale. Don't forget to play a game while you're at it, and say hi to all of the other board game loving people that will be there.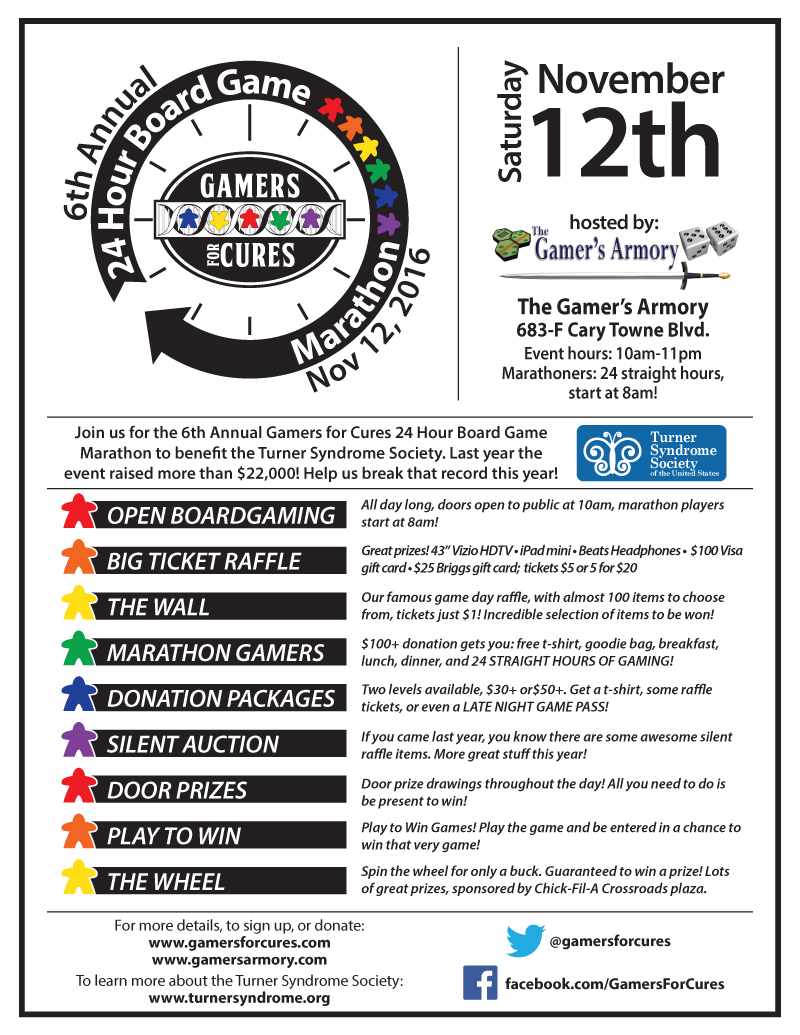 Once again, thanks for all your support for Gamers for Cures and the Turner Syndrome Society of the United States.