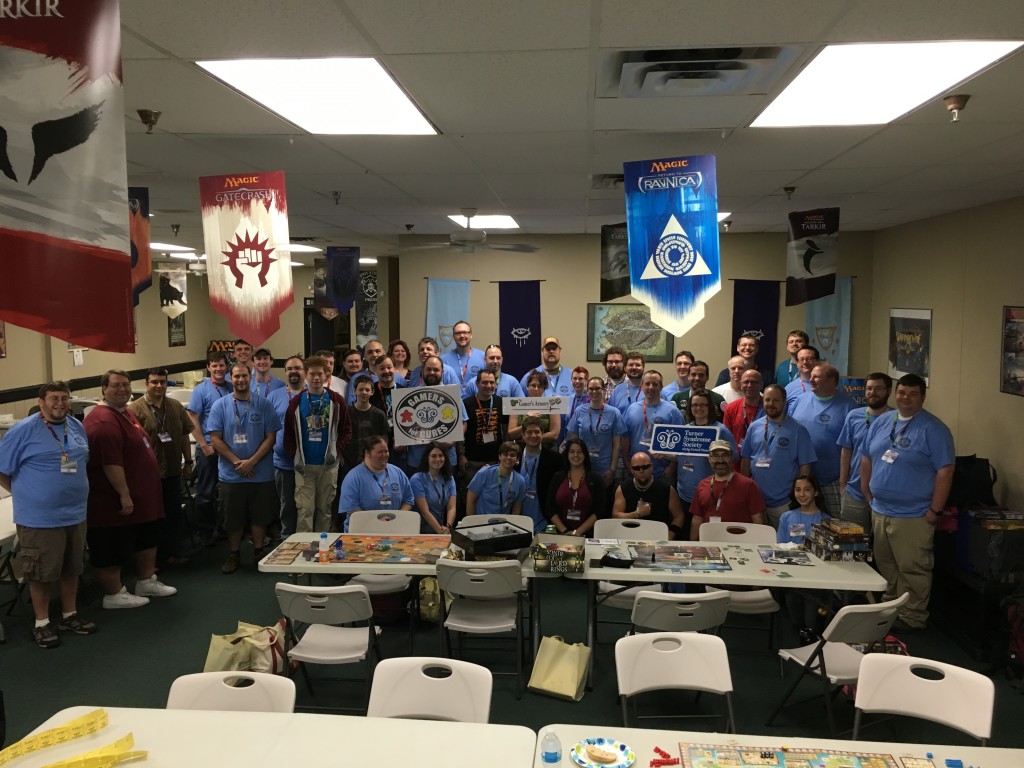 As Adam said this year was simply an amazing year. Not only did we raise just over $22,000 for Turner Syndrome Society of the US but everything went amazingly smooth and everyone seemed to have a blast! Food was great the giveaways were even better then ever and people had a smile on their face all day long!
I cannot thank Scott and Crystal from The Gamers Armory enough for their hospitality over these 5 years. They have been great and we simply could not have had such success without them.
Also I would like to thank Adam S who manned this site extremely well and ran a killer contest leading up to the event. And his graphic design skills for the programs were simply second to none. THANKS so much for your help and guidance Adam!
Another person who I wanted to thanks for his help with this and that and also for running the play to win games is Chris Mosley. Thanks buddy!
Not to be forgotten as well is our social media Guru herself Laura Drew, well done as always!
I cannot leave out Matt Wolfe who has helped me all year long from cons to extra bags for the swag bags and taking the time to do the geek list of the WALL on BGG. Thanks so much buddy.
And of course I cannot thank the volunteers from TSSUS NC chapter who came out to help us man the tables and talk to people and spread more information and awareness about Turner Syndrome.
Last but MOST important of all, thanks to my beautiful wife and family. Janice Lauren, and DJ helped out for months and months and put up with my stressing, and did a fantastic job helping out the day of the event. I love you guys so much.
I am going to put the list of the winners of the wall items and the big ticket items at the bottom of this post. If you are on this list and have not heard from us or the store please let me know by commenting on this post and I will get in touch with you ASAP.
In the coming weeks I will be posting some re-caps from marathoners who would like to share their experiences with GFC with all of you out there. If you would like to share with us as well PLEASE comment on the posts or mail us directly!
Thanks so much for all of your support. Stay tuned in weeks to come for more re-caps and more information for next year as well.
–Dan
BIG Ticket Raffle Information
The drawing will take place at 10:00 pm on
Saturday, November 7th during the
24 Hour Board Game Marathon at
The Gamer's Armory in Cary, NC
40″ LED Television
…
Winner: Chris Mosley

Xbox One
…
Winner: Sam White
Apple 16GB iPad Mini
Winner: Damien Griffiths

$100.00 Visa Gift Card
…
Winner: Susan Balker
$50.00 Home Depot Gift Card
…
Winner: Matt Lousahimer
$25.00 Briggs Resturant Gift Card
…
Winner: Lynn Dunbar
Raffle Wall Winners for 2015
| | | |
| --- | --- | --- |
| Raffle Number | Item Name | Winner |
| 1 | Alchemy! | Douglas |
| 2 | Animal Upon Animal | Joshua Mills |
| 3 | Car Wars the Card Game | Chris Kirkman |
| 4 | Discoveries: The Journals of Lewis & Clark | Andrew Roberts |
| 5 | Elysium | Soumitra Choudhury |
| 6 | MTG From the Vault: Angels | JG Willliams |
| 7 | Snake Oil | Daniel Warlick |
| 8 | Star Wars E7 Assault Walker + Elite Speeder Bike | Collin Gloauoer |
| 9 | Star Wars Risk | Y.Rodriguez |
| 10 | Takenoko + Takenoko Chibis | Scott Blanton |
| 11 | Wits & Wagers, Party Edition | Jeremy Baker |
| 12 | Munchkin Steampunk Deluxe | Josh Baker |
| 13 | Yu-Gi-Oh! Dice Masters Booster Box | Daniel Warlick |
| 14 | Duck Duck Go | Jason Willis |
| 15 | Duck Duck Go Safari | Carol Everett |
| 16 | Rarrr!! | Justin Bradshaw |
| 17 | Mouse Guard RPG HC | Ronald Watkins |
| 18 | Boss Monster Bundle | Scott Vaughn |
| 19 | Tsuro | Samuel Manilla |
| 20 | Hawaii | Chris Courdney |
| 21 | Istanbul | Daniel Edwards |
| 22 | Justice League Strategy Game | Bryan Henrick |
| 23 | Legendary Encounters Predator | Jed Humphries |
| 24 | Pandemic Legacy Blue | John Howell |
| 25 | Thurn N Taxis | Becky Blassingmane |
| 26 | Wilderness War | Michael Smith |
| 27 | Dead Drop + Expansion | Travis Bryant |
| 28 | YardMaster + Yardmaster Express | Chris Meyer |
| 29 | X-Wing New Starter + 17 Alt. Art Promos | Rod Ruiz |
| 30 | Fire Fly Base Game + 2 Expansions + Promos | Gary Cooper |
| 31 | Nothing Personal | Brandanel |
| 32 | Princess Bride: A Battle of Wits + As You Wish + Miracle Pill | Matt Wolf |
| 33 | Villains and Vigilantes + Expac | Donald Watkins |
| 34 | Age of Sigmar Starter Box + Citadel Hobby Starter Set | Mike Hartshorn |
| 35 | Churchill | Burke Drew |
| 36 | Commands & Colors: Napoleonics Expansion 5 | Burke Drew |
| 37 | Genesis: Ancient Middle East | B. Rueben |
| 38 | No Retreat 4: The Italian Front | Dan Freedman |
| 39 | Thunder Alley – 1st Edition | Adam O'Brian |
| 40 | US Civil War | Paul Hetrick |
| 41 | Wing Leader | Jason Tessendorf |
| 42 | Battlestations | Dan Patriss |
| 43 | Monster Derby | Ronald Watkins |
| 44 | Sentinels Tactics Bundle | Donald Watkins |
| 45 | Crash Cup Karambolage | Chris Mosley |
| 46 | Gary Gouda | Peter Saad PPA |
| 47 | Golem Arcana Bundle | Phil Show |
| 48 | Machi Koro | Zemuel Roman |
| 49 | Rattus the Card Game | Eric Booth |
| 50 | X-Files Board Game | John Weaver |
| 51 | Yedo | Lynn Dunbar |
| 52 | Dungeon Fighter | Dan Patriss |
| 53 | King of Tokyo | Janice Patriss |
| 54 | Steam Park | Chris Meyer |
| 55 | Doomtown Reloaded | Christian Ovsenick |
| 56 | Munchkin Zombies Collection | Andrew Webb |
| 57 | Patherfinder RPG Beginner Box | Ronald Watkins |
| 58 | BattleCon: Fate of Indines + War of Indines | Alex Berry |
| 59 | Dreadball Xtreme + Player's Guide | Butch Arthur |
| 60 | Age of Steam + 2 Expansions | Casey Guthrie |
| 61 | Railways of the World | Andrew Webb |
| 62 | City of Remnants | B. Rueben |
| 63 | Beyond the Rhine | Jamie Cribbs |
| 64 | Day of Days | Wrey Ferrell |
| 65 | Kawaguchi's Gamble: Edson's Ridge | Ronald Watkins |
| 66 | Salerno | Richard Bailey |
| 67 | The Mighty Endeavor | Scott Blanton |
| 68 | Evolution | Chris Meyer |
| 69 | Fools Gold | John Pace |
| 70 | Quantum | James Myers |
| 71 | Samurai Spirit | Brian Johnson |
| 72 | Tokaido | Timothy Edwards |
| 73 | Hordes 2 player Battle Box | Chris Mitchell |
| 74 | Undercity | Alex Hamilton |
| 75 | War Machine 2 player Battle Box | Alex Peladerie |
| 76 | Eight-Minute Empire: Legends + Lost Lands | Chris Norwood |
| 77 | Paths of Glory | Shane Jackson |
| 78 | Imperial Settlers + 5 Packs of Sleeves | Joshua Mills |
| 79 | Space Cadets: Away Mission | Mark Edwards |
| 80 | Aquasphere | Robin Trew |
| 81 | Autographed Star Wars Photos | Brian Colon |
| 82 | FOW Guards Armoured Reece Company | Christopher Rasmusson |
| 83 | Jamberry Jar | Joshua Mills |
| 84 | Space Hulk | Chris Kirkman |
| 85 | Firefly Shiny Dice | Roxanne Estrada |
| 86 | Legendary Villains | Joseph Abernathy |
| 87 | VS Sytem Box | Mike Hartshorne |
| 88 | D&D Icons Gargantuan Black Dragon | Peter Bierfeldt |
| 89 | Pandemic + The Cure | Bryan Hennsley |
| 90 | Pandemicn the Brink+  In the Lab + State of Emergency | Mike McMullen |